REPLICA Denix Non-firing MP40 German Sub machine Gun. NON-FIRING REPLICA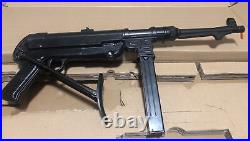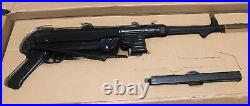 German WWII Maschinenpistole 40 / MP 40 "Plug Fire" replica gun, made by Denix. This is a non firing replica. The magazine fits into the well of the gun but the magazine itself cannot be loaded with cartridges.
Mechanically the gun works well, the bolt, trigger, magazine eject, and folding stock all working without issue. Used but in very good condition with minor wear.
Home
Archives
Contact Form
Privacy Policies
Service Agreement