MP41 WW2 German WWII Replica New withsling and Orange Plug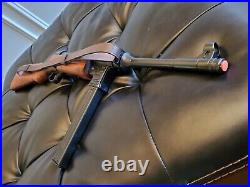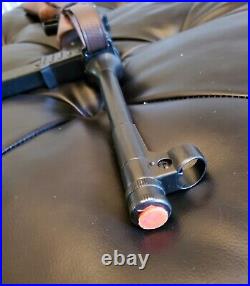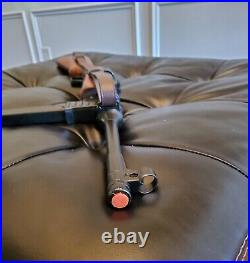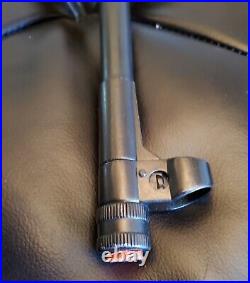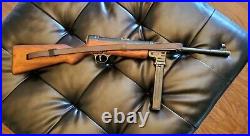 MP41 WW2 German WWII Replica New with sling and Orange Plug. This is a HIGH QUALITY item and it is available at a fabulously reasonable price. FULL SIZE, CORRECT 1:1 SCALE! Includea a replica leather WWII Marked 98k Sling. Our model features all metal and wood construction with a removable magazine and functional trigger / bolt.

This replica cannot be made to fire blanks or live ammunition. This replica has a BLAZE orange tip to abide by Federal law. This is not a real gun!

Federal Law requires Blaze Orange Tips on all post-1898 Replica Guns. This replica gun contains the colored markings required by law, including a permanently attached orange plug. DO NOT, UNDER ANY CIRCUMSTANCES remove, alter, obscure, or otherwise change the appearance of the colored tip at the barrel end of the replica gun. Non-Firing Replica Guns and Models.

Non-firing Replica Guns should ONLY be used in the home as scale model displays, as collector's items, or for theatrical or training purposes. They should ALWAYS be used under the supervision of a responsible adult. They should NEVER be carried on the street, pointed at anyone, hidden on your person, or left carelessly in your car. DO NOT leave them where they are accessible to unsupervised children or irresponsible adults. DO NOT let children play with these items.

DO NOT point these items at other people, even as a joke. It could cause alarm or be seen as a threat, with serious or even deadly consequences. AVOID excessive dry-firing as this may cause breakage. To avoid mechanical failures, keep them clean and lightly lubricated. All replicas of antique firearms (pre-1898) are allowed, excluding New York City (all 5 Boroughs).

ALL CUSTOMERS ARE RESPONSIBLE FOR ENSURING COMPLIANCE WITH ANY APPLICABLE LAWS OR RESTRICTIONS AT THE POINT OF DESTINATION. PLEASE CHECK LOCAL LAWS PRIOR TO ORDERING.

By purchasing you are certifying that you are over 18 and that you have read and agree all the terms above.
Home
Archives
Contact Form
Privacy Policies
Service Agreement