Wwii German Helmet (m40) (blurred Edge Camo Cover) (from A. T. F.) Very Nice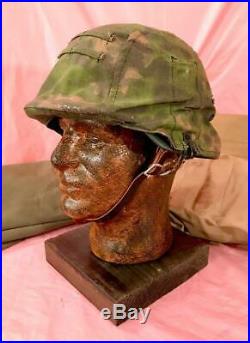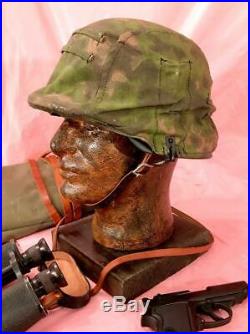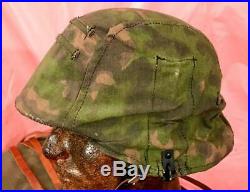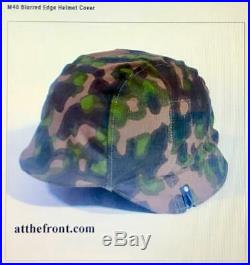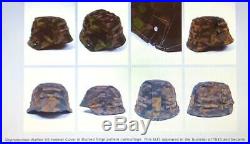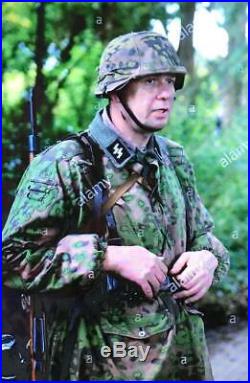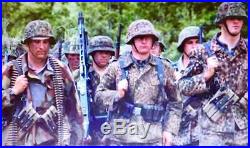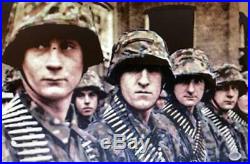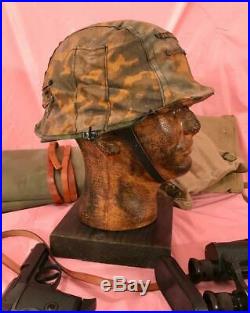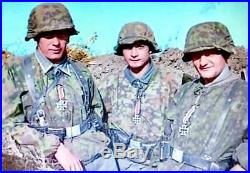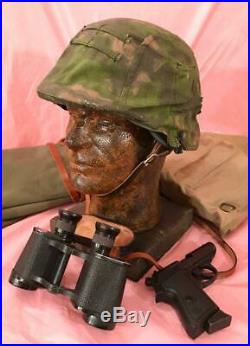 WWII GERMAN HELMET (M40) (BLURRED EDGE CAMO COVER) FROM A. From a private WWII museum collection of over 20 years, featuring all types of original WWII period clothing, equipment and assorted military pieces, as well as a variety of reproduction items, uniforms, equipment, and European military surplus. All items have been part of a variety of WWII displays. The following item is offered for sale.

WWII GERMAN HELMET (M42) (BLURRED EDGE CAMO COVER) FROM A. ADDITIONAL 24 PICTURE GALLERY INCLUDED.

THIS IS A WONDERFUL & RARE REPRODUCTION. WWII GERMAN (M40) HELMET WITH >. (2-SIDED BLURRED EDGE CAMO COVER). AS WAS WORN BY WAFFEN SS TROOPS DURING WWII. AT THE FRONT ALMOST 18 YEARS AGO.

& SEVERAL GERMAN WAFFEN SS HELMETS FROM. AT THE FRONT GOING BACK 18+ YEARS. COMPANIES LIKE AT THE FRONT.

RAMPED UP INTO TO HIGH GEAR TO MEET THE DEMAND OF A WHOLE NEW GENERATION OF. AT THE FRONT OFFERED A COMPLETED.

WAFFEN SS CAMO HELMET SET. THIS IS AT THE FRONTS EARLY 2000 ERA. (M40) REPRO HELMET COMPLETE WITH LINER. CHIN STRAP AND WAFFEN SS. (BLURRED EDGE CAMO HELMET COVER) THAT.

INCLUDED (FOLIAGE LOOPS) FOR ATTACHING ADDITIONAL TREE BRANCH/LEAF CAMO TO THE HELMET COVER. IT CAME FULLY ASSEMBLED WITH CAMO COVER. WITH (3) ROCKER CLIPS TO SECURE THE CAMO COVER TO THE HELMET. THIS CAMO COVER IS ONE OF.

AT THE FRONTS ORIGINAL (IN-HOUSE) CUSTOM. MADE DESIGNED & PRODUCED BLURRED EDGE CAMO COVERS THAT AT THE FRONT DEVELOPED FROM ORIGINALS. THIS SPECIFIC COVER MODEL DESIGN IS NO LONGER PRODUCED IN ITS EXACT COLORATION BY ANYONE ANYMORE! THERE ARE ONLY 2 ISSUES WITH THIS HELMET WITH CAMO COVER SET IN THE 18 YRS THAT MY DAD HAD IT DISPLAYED IN THE COLLECTION.

CAME WITH (3) ROCKER SPRING CLIPS TO SECURE THE CAMO COVER TO HELMET. 1 REAR ROCKER SPRING CLIP BROKE. SO IT NEEDS TO BE FIXED WITH A NEW CLIP.

AND "TINA" SAID THEY DON'T KNOWN WHEN THEY'LL GET ANY MORE.. "GOOD NEWS" AND OLD CONTACT. HAD A COUPLE OF REPLACEMENT SETS. AND WE HAD A NEW REPLACENT. ROCKER SPRING CLIP 3 PIECE SET w.

SO NOW YOU OR YOUR REENACTOR BUDDIES. WHO KNOW HOW TO DO THIS, CAN FIX IT!

"REPLACEMENT REPAIR CLIP SET INCLUDED". THE CHIN STRAP DEVLOPED 1 TINY LITTLE EDGE TEAR IN THE LEATHER STRAP.. STILL WORKS, SECURES, & BUCKLES JUST FINE. FRONT VERY EDGE LIP OF CAMO COVER SHOWS MINISCULE LITTLE WEAR MARKS IN THE CAMO COVER EDGING.. WHICH IN FACT JUST ADDS TO REALISM.

THOSE ARE THE ONLY ISSUES WITH THIS HELMET. WE ARE DISCOUNTING THE HELMET FURTHER TO COMPENSATE FOR THIS. SIZE: HELMET LINER IS SIZE MARKED > 58. WE HAD A MODEL TRY IT ON. HELMET FITS AS A PERFECT MENS > 6 7/8.

AND OTHER MAKERS OF WWII WAFFEN SS. CAMO COVERS HAVE GONE THRU MANY CHANGES. IN THE LAST 20 YEARS AS THEY HAVE RE-DESIGNED, UPDATE, & REVISED THEIR CAMO COVERS, REVISING MATERIALS, CHANGING & UPDATING PATTERNS, AS WELL AS PRODUCTION METHODS TO PRODUCE THE CAMO MATERIALS USED TO PRODUCE THESE CAMO COVERS. ALMOST 18 YEARS AGO, WHICH IS NO LONGER. YOU CAN NO LONGER GET. WHEN CURRENTLY VIEWING BOTH A. (1944 GERMAN MILITARIAs) WAFFEN SS HELMET. VERSIONS FROM OAK-LEAF TO BLURRED EDGE.

BUT ALL ARE UPDATED VERSIONS THAT HAVE BEEN REVISED ALMOST 20 YEARS LATER. NEITHER REPRO COMPANY CURRENTLY OFFERS THIS EXACT BLURRED EDGE CAMO COLOR VERSION ANY LONGER.. MAKING IT RARE & UNIQUE.

SO OUR HELMET FOR SALE IS A VERSION NO LONGER OFFERED. A UNIQUE ONE OF A KIND OFFERING.

THIS CAMO COVER WAS MADE IN THE DARKER GREEN COMBO BLURRED EDGE DESIGN WITH THINNER FOLIAGE LOOPS. THE COVER COMES OVER THEIR ORIGINAL REPRODUCTION (M40) HELMET WITH LINER & CHIN STRAP. THIS FINISHED REPRODUCTION WAFFEN SS CAMO HELMET HAS A GREAT VERY REALISTIC APPEARANCE, AND LOOKS VERY ORIGINAL IN COMPARISON TO PERIOD PHOTOS OF WAFFEN SS TROOPERS.

THIS HELMET WAS NOT AGED FOR REALISM. MY DAD USED THIS FOR STATIC MANNEQUIN DISPLAY IN THE WWII COLLECTION FOR 15+ YEARS. MY DADS RECORDS INDICATE THAT BACK IN 2001 THIS HELMET RETAILED FOR APPROX. AS SEEN IN THE PHOTO GALLERIES, THIS CAMO HELMET SET DISPLAYS BEAUTIFULLY OR CAN CERTAINLY BE USED FOR LIVING HISTORY OR REENACTMENT ONCE YOU FIX THE REAR CLIP AND IT CERTAINLY CAN BE AGED FOR AN EVEN MORE REALISTIC LOOK. THIS VERY NICE COMPLETE SET INCLUDING A. S" M40 HELMET, LINER, CHIN STRAP, AND THEIR 2001 ERA "BLURRED EDGE CAMO COVER NO LONGER OFFERED & RARE, WHICH ALSO INCLUDES A REPLACEMENT ROCKER PIN CLIP SET, HAS BEEN DISCOUNTED TO OFFER A GREAT DEAL ON A NICE HELMET SET THAT LOOKS VERY REALISTIC, THAT WAS MADE BY A GOOD COMANY ALMOST 20 YRS AGO... THE FOLLOWING ITEMS WERE USED FOR DISPLAY PURPOSES ONLY & ARE NOT INCLUDED & NOT FOR SALE. MANNEQUIN HEAD & DISPLAY BASE. YOU GET HELMET / LINER / CAMO COVER. In 1942, the Germans simplified their steel helmet by eliminating the rolled edge, Thus now producing the new (M42) Helmet. This model was worn alongside the earlier M35 and M40's until the end of WWII. They were worn by all services- Heer, Kriegsmarine, Luftwaffe, Polizei and Waffen SS. S (M42's) are very good quality and compare well to the originals. The weight and thickness of the shell is similar to originals, the leather is calfskin, and the chinstraps are good copies. Color: is the correct (Feldgrau) flat fieldgray color matched to an original. Size: The liner is (54) Mens 6 7/8. SS CAMO: Their Camo patterns are designed &. Manufactured by factories specifically for them.

From Original patterns, And then Hand & Machine cut & assembled in house, As originals were during WWII. Yes, original SS camouflage is one of the most expensive areas in all of military collectibles. Numerous photos of authentic SS camouflage items are readily found online, and there are several excellent reference books available. Original blurred edge covers are one of the more difficult styles to find today, but they do turn up. Of the ones encountered over the years, approx..

50% of originals came with Foliage Loops. Examples of originals with loops are found in the pages of. Waffen SS Camouflage Uniforms Vol. For those interested in learning the facts about the SS camouflage made during WWII, and actually seeing lots of originals, Waffen SS Camouflage Uniforms volume 1 by Silvestri is the best book available- the photos are superior to the other works out there and it is the most recent. Almost "everything" is in it.

Camouflage Uniforms of the Waffen SS by Mike Beaver is the previous "Bible" for camo collectors and is the second best reference. SHIRTS & TIES ARE USED FOR DISPLAY PURPOSES ONLY & NOT FOR SALE, UNLESS OTHERWISE LISTED. ALL ITEMS, DESCRIPTIONS & CONDITION ARE PROVIDED AS BEST AS POSSIBLE. SIZE INFORMATION IS PROVIDED WHEN POSSIBLE BUT FIT IS NOT GUARANTEED. I hope others enjoy them as much as I have.

If you have any issue of any kind please contact me immediately & I will work to resolve the issue. Thank you for viewing this item.

To all the men & women of The Greatest Generation for their service & sacrifice during WWII and thank you to all the men & women who proudly serve or have served our country in the United States military to protect our country and our freedom. Auctiva offers Free Image Hosting and Editing. The item "WWII GERMAN HELMET (M40) (BLURRED EDGE CAMO COVER) (FROM A.) VERY NICE" is in sale since Thursday, May 21, 2020. This item is in the category "Collectibles\Militaria\WW II (1939-45)\Reproductions\Germany".

The seller is "paratroopeasy506ef" and is located in Braintree, Massachusetts. This item can be shipped to United States.