Wwii German Afrika Korp Tropical Dak M1940 M40 Combat Field Tunic- Small 38r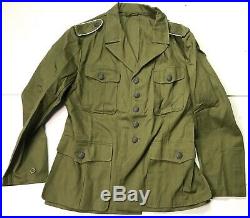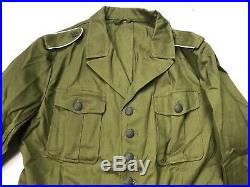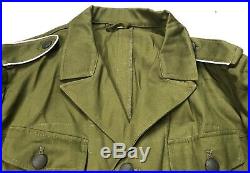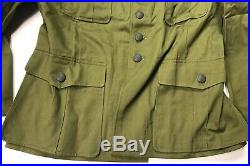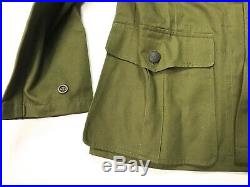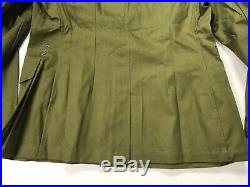 WWII GERMAN AFRIKA KORP TROPICAL DAK M1940 M40 COMBAT FIELD TUNIC. Made of 100% cotton Green-Zeen Twill material with the correct weave and color as the originals worn by troops of the Afrikakorps and in southern Europe. The M40 Tropical tunics of the Afrikakorps, later authorized for summer field wear in Southern Europe, were basically the same cut as the standard army uniform but with open collar and lapels, and made of a medium-weight olive-drab cotton twill which in service faded to khaki.

Also olive were the shirt and the seldom-worn necktie. Insignia were embroidered in dull blue-grey on tan backing cloth. This tunic was issued to all Army personnel in North Africa, including officers and Panzer crews. The M40 Tropical breeches were of jodhpur type, to be worn with knee-boots or puttees: these were very unpopular and most were soon cut off to make shorts (captured British/Commonwealth shorts were frequently worn as well). By mid-1941 conventional trousers in olive cotton were being issued, followed soon thereafter by regulation Heer shorts; these had a built-in cloth belt. A chocolate brown overcoat in the same pattern as the continental version was issued as protection from the cold desert nights. Pith helmets, ankle boots with puttees, and lace-up canvas knee-boots were also issued in 1941 as protection from the sand and hot tropical sun; the puttees disappeared quickly and the hated knee-boots were for the most part cut down to ankle length.

The pith helmets, although effective against the sun, proved bulky and impractical in front-line service and were usually only worn in rear areas. For combat situations, standard steel helmets field-painted in a tan color were issued, usually vehicle interior sand-yellow (sandgelb) or exterior brown-yellow (gelbbraun). The Afrikakorps' soft cover was the M40 visored (peaked) cap similar in shape to that of the mountain troops (Gebirgsjäger).

This extremely popular cap was made of olive-drab cotton twill lined with loosely woven red cotton fabric for protection from the sun and effective heat transfer from the head. It had a long visor, one-piece "false fold" rather than functional earflaps, and two metal ventilation eyelets on each side; for all but the most extreme climate conditions the M40 cap was generally preferred over the pith helmets. Also worn but less popular, except with Panzer personnel, was an olive cotton version of the sidecap. The Luftwaffe tropical uniform differed significantly from the Army version.

Air force uniforms were made of a yellowish-khaki cotton twill that proved to be a more effective camouflage color in the North African desert than Army olive, although the latter did fade to a sage-tan color with use and sun exposure. Its cut was also considered more practical and suited to the local climate than that of the early Army tropical uniform, with loosely cut trousers, a closed-collar tunic, and tan shirt. Unlike the Army, no special tropical overcoat was issued. Headgear, also in tan, initially consisted of a sidecap, pith helmet, or a unique tropical peaked cap design with detachable neckshade, although the latter was eventually replaced with a version of the Army M40 tropical cap in Luftwaffe tan.

The item "WWII GERMAN AFRIKA KORP TROPICAL DAK M1940 M40 COMBAT FIELD TUNIC- SMALL 38R" is in sale since Wednesday, June 26, 2019. This item is in the category "Collectibles\Militaria\WW II (1939-45)\Reproductions\Germany". The seller is "luckyline1945" and is located in Pierre, South Dakota. This item can be shipped worldwide.
Home
Archives
Contact Form
Privacy Policies
Service Agreement