Juden Raus! 1936GermanyWWIIAxisNaziBoard GameReproduction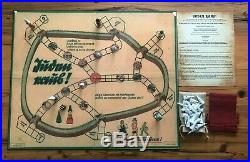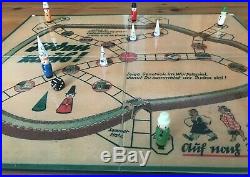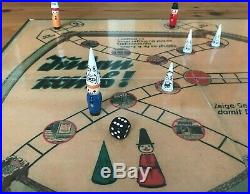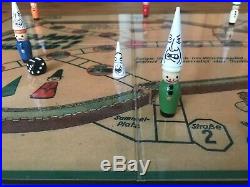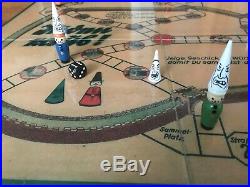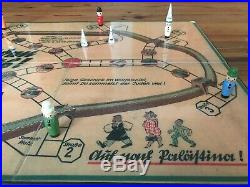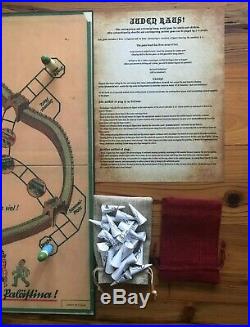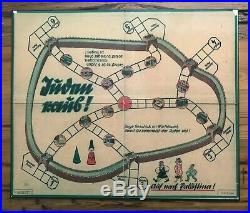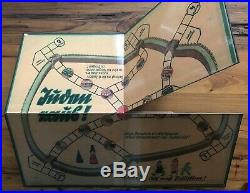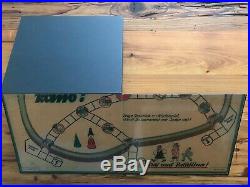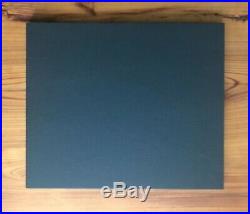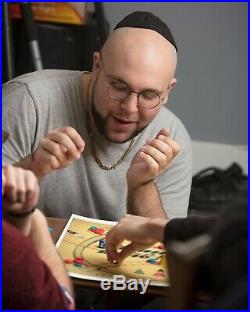 This is a reproduction copy of the original game. Reproduction was done for a private collection approx. 3 originals exist, with one in private collector hands.

VERY limited quantity of extras were made. Additional games will NOT be produced.

The game is hand made with the most reasonably authentic materials (shape, material type, colour) to copy the original as possible. Pieces may vary as each piece is individually made. Is a Cross and Circle-style game published in Germany by Günther & Co. The game was advertised as "entertaining, instructive and solidly constructed".

The game's equipment includes a pair of dice, a game board, and six game piece figurines with large pointed hats meant to represent Jews. Players take turns rolling the dice and moving their "Jews" across the map toward "collection points" outside the city walls for deportation to Mandatory Palestine. Written on the game board, it says If you manage to see off 6 Jews, you've won a clear victory! Juden Raus is a commercial board game rather than a Nazi propaganda effort, and contains no Nazi symbolism. The game was officially criticised by the SS journal Das Schwarze Korps, which believed the game trivialised anti-Semitic policies.

An article in the International Society for Board Game Studies Journal suggests that the game's commercial performance may never actually be known because it may have been exaggerated in advertising material. The article considers it unlikely that the game could have been successful in Germany after having been condemned by the SS. 6 x Token pieces with bag. 36 x Hats with bag.

1 x Game Rules in English & German. The contemporary and extremely funny social game for adults and children.

This extraordinarily cheerful and contemporary parlour game can be played by 2-6 people. The game includes 1 dice, 6 figures and 36 hats. The game board has three areas of text. Zeige Geschick im Würfelspiel, damit Du sammelst der Juden viel!

Display skill in the dice game, so that you collect many Jews! Gelingt es Dir 6 Juden rauszujagen, so bist Du Sieger ohne zu fragen!

When you succeed in driving out 6 Jews, you will be winner beyond all question! Players take turns rolling the dice and moving their token hat (Judenhütchen-Jewish hat) across the map toward collection points (Sammelplatz) outside the city walls for deportation to Palestine noted on board Off to Palestine! On the board are 13 specially marked circles with pictures of Jewish storefronts. On reaching these places a hat representing a Jew is awarded to the player.

The method of play is as follows. Each player rolls the die and places his figure on the start-square of the street (Straße 1-6) whose number is equivalent to that of the number thrown. Whoever occupies Street One is the leader and plays first. Each in turn then rolls the die and moves his figure the appropriate number of spaces towards the central square (red circle on board). If, having crossed the town wall, he lands on a square marked with a Jewish storefront/business, he gets a hat (Judenhütchen) from the game leader and caps his figure with it. On his next throw he starts moving his figure back towards the collection-point (Sammelplatz) and hands the hat back in. If a player has thrown a six (for example) and is now three spaces away from the collection point, he can hand the hat in and then go forwards three spaces. This coming and going between the town wall and the central square continues until one player has moved six hats over to the collection point. Having handed in his sixth hat, he then goes back over the numbered squares to the central square.

The first to do this wins First Prize. If you manage to see off 6 Jews, you've won a clear victory!

The other players can either carry on playing for position, or divide the remaining prizes among themselves according to how many hats they managed to collect. When a figure has been capped, the person playing it continues moving forwards, according to the number thrown, towards the central square. If he there encounters another figure with a hat or hats, he can capture its hat or hats and bring them back to his own collection point. In following this method of play, it is possible for a player who is either on his way either to the central square, or coming back from it, to land on several marked squares, and consequently to collect several hats to bring to the collection point.

When he has handed in six hats, he must go back to the central square. If he is the first to do this, he wins First Prize. If you manage to see off 6 Jews, you've won a clear victory! 1936GermanyWWIIAxisNaziBoard GameReproduction" is in sale since Saturday, June 1, 2019. This item is in the category "Toys & Hobbies\Games\Board & Traditional Games\Vintage Manufacture".

The seller is "herslefk0" and is located in New Orleans, Louisiana. This item can be shipped worldwide.
Gender: Boys & Girls
Modified Item: No
Country/Region of Manufacture: Germany
Custom Bundle: No
Min. Number of Players: 2 players
Game Type: Board Game
Theme: Strategy
Title: Juden Raus!
Year: 1936
Character Family: None
Age Level: 12-16 Years
Brand: Günther &; Co.

, Dresden

Non-Domestic Product: No