German WWII Karabiner K98k Replica Display Rifle, Full Size, NON-FIRING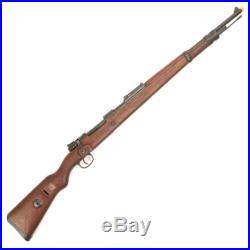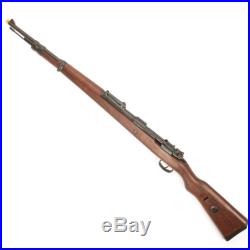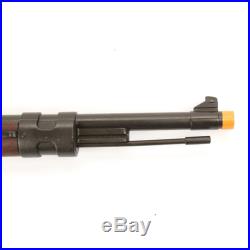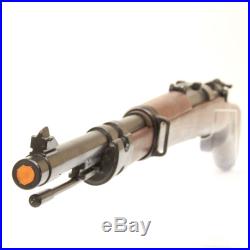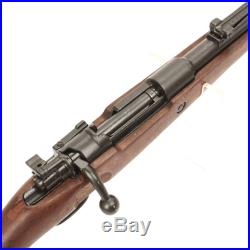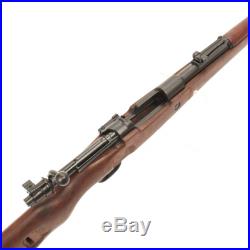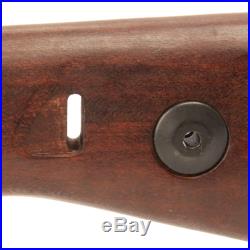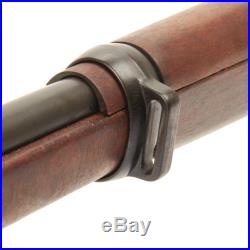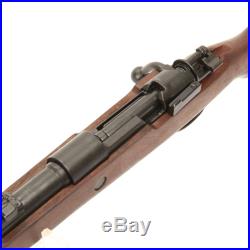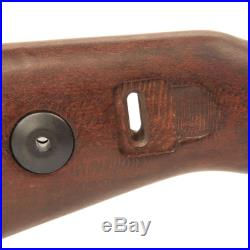 German wwii karabiner k98k replica display rifle, full size, non-firing. Click here to view full size. Click to close full size.

Functional, has a permanent blaze orange muzzle plug, is completely legal. Please do not remove this listing. German wwii karabiner k98k new made display rifle. Type of manufacture: new made item. New made item: the karabiner 98 kurz (often abbreviated kar98k, k98, 98k, k98k) is a bolt action rifle chambered for the 7.92×57mm mauser cartridge that was adopted in 1935 as the standard service rifle by the german wehrmacht in wwii. It was one of the final developments in the long line of mauser military rifles.

Although supplemented by semi- and fully automatic rifles during ww2, it remained the primary german service rifle until the end of world war two in 1945. Millions were captured by the soviets at the conclusion of the war and the soviet union gave them as military aid widely.

The karabiner 98k therefore continues to appear in conflicts across the world as they are taken out of storage during times of strife. This is the finest replica on the market today.

The look and feel are just like an original. Stock made from hard wood with sturdy metal (zinc) functional parts, the bolt functions (nothing can be chambered) and the cocked trigger gives a satisfying "snap". This is a premier collector's replica, perfect for historical display, reenactment, or a burglar's decoy left just outside your gun safe! We also offer separately a top quality leather sling with wartime markings, 98k bayonet (will not mount to gun without modification) and multiple other 98k accessories. Length: 43.7 weight: 6.25 lbs.

This item is completely legal within the usa. International military antiques, inc observes all federal, state and local laws. Everything for sale on is completely legal to own, trade, transport and sell within the united states of america.

This item complies in these specific ways. 1 blaze orange barrel plug permanently attached to the weapon. 2 cannot be converted to shoot a lethal projectile. 3 will be in strict compliance with all state and local laws. Muzzle of barrel has blaze orange plug as required by us law.

Imitation new made inert gun laws. In conjunction with a frame or presentation box; or. Solely for export in interstate or foreign commerce; or. Solely for use in theatrical or re-enactment productions; or.

For use in certified sporting events or competitions; or. For use in military or civil defense or ceremonial activities; or.

For public display authorized by public or private schools. Connecticut, massachusetts, wisconsin and minnesota.

All replicas of antique firearms (pre-1898) are allowed. Replicas of antique firearms (pre-1898) are allowed. Ima inc was founded by christian cranmer in 1981. In 2004, his son alexander joined the business and together (with plenty of help from their magnificent staff) they have grown ima to become the world leader of the military collectibles, military antiques and the militaria industry. We offer thousands of military antique items, including very rare original pieces spanning the past five centuries, as well as hard to find top quality new made reproductions.

Ima supplied some of the world's foremost military museums, film productions (saving private ryan), collectors, and re-enactors. However, most ima customers are just everyday people that happen to share our passion for history. We are an american company with european roots. Our corporate offices are located in gillette, new jersey, less than one hour from new york city. Our newly opened retail showroom, the ima gallery is located just 1.5 hours west of nyc, just off route 78 in easton, pa.

Thank you very much for visiting. Domestic (48 states) ground service rate: free. While the majority of orders will arrive on the estimated dates some orders may be delayed for various reasons. If you need an order by a specific date please place the order on then call 908-903-1200 to confirm that we can meet your requirements. Please allow us the opportunity to resolve problems; we understand the concern and frustration you may have and will do our very best to resolve any and all issues. We want to make it easy. You do not need a return authorization number (ra#).

Unaltered condition means that no restoration, painting, major cleaning, or change of any kind has occurred. The return address label provided by ima is not pre-paid. It is only an adhesive label with our correct address. We appreciate your patience and understanding. We leave feedback immediately after feedback is left for ima.

We will resolve your issue before either option is required- that is a promise. We will notify ups about a pending claim.

Ups claims can take up to four weeks, but typically are resolved sooner. We also maintain a secure database of customer addresses. If a mistake was made and ima is responsible, we will correct it out of our cost. This listing is currently undergoing maintenance, we apologise for any inconvenience caused.The item "German WWII Karabiner K98k Replica Display Rifle, Full Size, NON-FIRING" is in sale since Tuesday, March 18, 2014.

This item is in the category "Collectibles\Militaria\WW II (1939-45)\Reproductions\Germany". The seller is "international-military-antiques" and is located in Gillette, New Jersey.

This item can be shipped to United States.